Stories from our Community and Mission Partners
Stories from our Community
Churches have been pivotal to City Mission and International Missions for centuries. Our open Wednesdays, where everyone is invited to walk in our historic church building at the Groenburgwal, are all about welcoming and connecting with the community around us. Christ Church Amsterdan has a Mission Opportunity Fund – we use awarded funds to support opening the building more often, reaching out to our local neighbourhoods and all who come to find us. At the moment we are cooperating closely with the owners of our building and architects to make the best use of our historic building.
Over the years our vision process has included taking time away with a group, or as council to explore, pray and discuss our plans, as well as holding council and leadership team discussions around this topic.

There are outreach moments – carols by candlelight, canal boat tours, drinks at Church for the neighbours that we regularly host. We plan to make the most of our anniversaries – this year the 10 year anniversary of our congregation at South East and our 250 year anniversary of Christ Church Amsterdam being in its current city centre building. For the latter we plan a weekend of activities, including tours, concerts, drinks, a confirmation service and so on.
Stories from our Mission Partners
For years, Christ Church Amsterdam has shared support with our mission partners in the calling to serve, as mission is about sharing, giving and receiving.
A mission partner is an organisation or someone who feels called by God to serve in our city, or in another part of the world. They serve wherever God directs, mostly working with limited resources. There are so many ways our congregations and groups can help them. They rely on you sharing your time, talents and your giving to continue to bring hope.
Some of our relations with our mission partners are more structured and formal. Others are more informal, grown from personal relations or former congregants who embraced their calling. Here are some of their stories:
Video Stories from our Local mission partners
The Gave Foundation longs for the refugees who come to our country to be seen and loved. Gave is an interdenominational organization. Refugees have a strong desire to connect and make new friends. We listen to their difficult life stories and share stories of hope that pique interest in Jesus. We are trusting God to reveal Jesus as the true Messiah and establish a new community of believers among the refugee population. family.
Navigators is a Christian student union that brings university students together to explore and deepen their faith, and bring it into connection with student life.
OCAAM is the sponsor for Anglican and Old Catholic participation in the Airport Chaplaincy at Schiphol Airport, one of the busiest airports in the world, providing pastoral and spiritual care, as well as assistance in times of distress to travellers and workers at the airport. The centrally located Meditation Centre is open 24/7 and provides a weekly worship service as well a place of peace and reflection where all are welcome, regardless of nationality and belief,
Tyndale seminary a graduate, professional school offering accredited English language Masters programs.
The seminary is  interdenominational, preparing students for ministries as pastors, teachers,missionaries, church planters and denominational leaders around the world.
Video Stories from our Global mission partners
Second Chance Rukundo Ministry seeks to give a second chance to different group people who have experienced failures and hardship in their lives. These are the people who do not have a living hope for life due to psychological trauma, inner wounds caused by war, the Genocide and Social rejection. They are without practical skills to get jobs and earn their livelihood. They include the people who have spent many years in jail, young girls who have become pregnant and are rejected or marginalized by their family members, the widows who have been depending on their husbands, the alcohol and drug addicted, prostitutes, in Ruhango District in Rwanda
Through its activities, the Near East School of Theology aims to support the Christian minority in the Middle East in its presence and witness. To this end, pastors and church workers are trained and there is additional training for pastors and church workers in active service. In addition, the institute provides courses in theology for laymen and interested parties from other religious traditions, such as the Islamic, Orthodox, Catholic and Jewish traditions.
The goal of Stichting Mozambique is to reach out to those in need within Mozambique. Stichting Mozambique had several projects in the past for young mothers and for the eldery. Now Stichting Mozambique has been asked to help the only health center in a village wich serves nearly 6600 people plus the surroundings, as well help in providing equipment to accommodate Covid-19 patients.
Singapore sits in the strategic crossroads between the East and the West, a highly networked gateway to other Asian nations. Our English-speaking culture and diverse range of ministry options have made us a popular choice for international missionaries looking for a safe, stable base to rest and refuel before being released into wherever God calls them to go. As a mission, we see ourselves serving as a springboard from which many launch off into the Asian harvest fields. Along with churches and other Christian organisations in Singapore, we recognise that being the gateway of Asia is our identity and destiny as a nation.
ICS' Mission Director Richard Bromley shares his message.
ICS  is one of our global mission partners, as well our patron.
The following partners are supported in prayer and by individual congregant support:
People from all corners of society together form the Oudezijds 100 Community. In the center of Amsterdam, we try to present the gospel of Jesus Christ in life and work. Oudezijds 100 offers concrete help through walk-in, social care, assisted living, medical social work, and medical care for the uninsured. The residential community functions as a large family and training school, offering supports and guidance.
We take care of orphans and widows in their distress in Paraguay
Shelter provides accommodation to travellers with an opportunity for them to hear the gospel.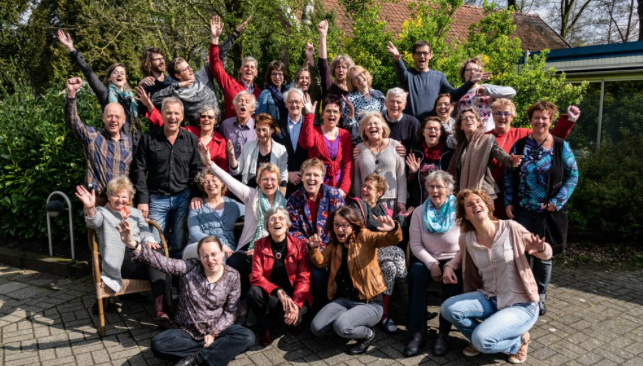 The aim of the foundation is to train/equip professional counselors, pastors and lay people to work in pastoral care.
The Healthy Vine Trust is an organization that works in Uganda for reduction of Malaria, particularly in children under the age of 5.

The Right Reverend Dr Robert Innes, Bishop of the Diocese in Europe and The Ven Sam Van Leer (Archdeacon NW Europe) share a message of support to Christ Church's work with our mission partners and our community, at the Celebration of 250 Years of worship in our historic location at the Groenburgwal 42 in Amsterdam.