Renting our Building
Looking to rent the bulding?
The Groenburgwal Sanctuary, Wedding and Meeting Facilities
Christ Church Amsterdam on the Groenburgwal in the City Centre offers a tranquil oasis amidst the hustle and bustle of Amsterdam, the perfect place for those seeking short term meeting space with or without using our in-house tools & digital facilities. Looking out onto the Groenburgwal canal, the church is a monumental building which exemplifies Amsterdam's magnificent past. In addition to the sanctuary with its carved wooden pews, Groenburgwal offers an ideal location to organise weddings, meetings, concerts, events, art courses and other classes, Bible studies and prayer moments. We strive to be of service to communities in and around Amsterdam and to those travelling into Amsterdam who need a quiet place to get together., The location right in the middle of Amsterdam is ideal as it is very accessible, both by public transport and by car. Central Station is a 15-minute walk from the church, the North South Line Metro and many trams stop at Rokin which is a mere 5-minute walk to Groenburgwal. The parking garage at the Gemeente City Hall at Waterlooplein is also located nearby and provides ample and secure public parking spaces.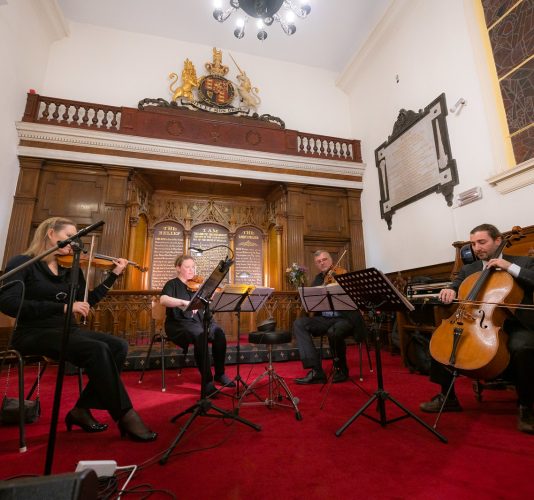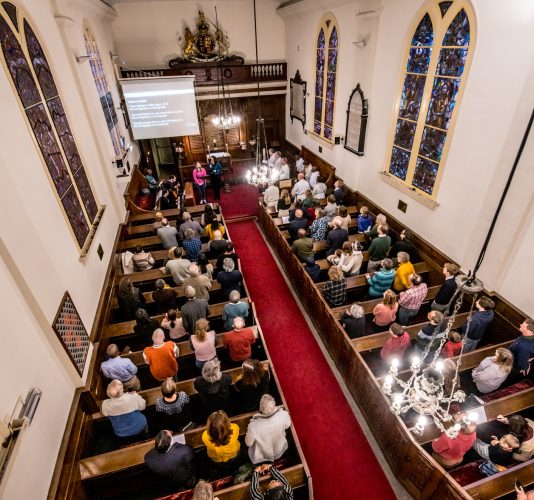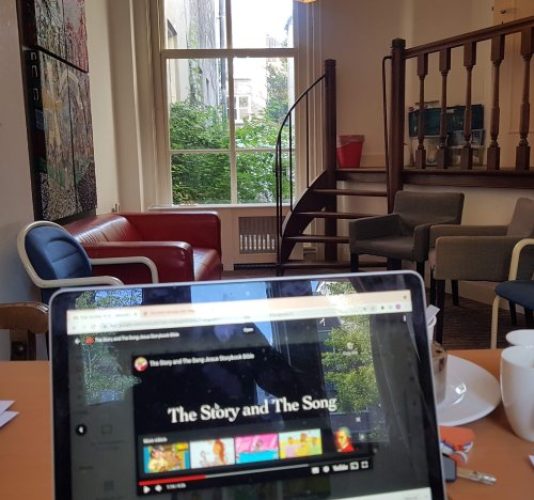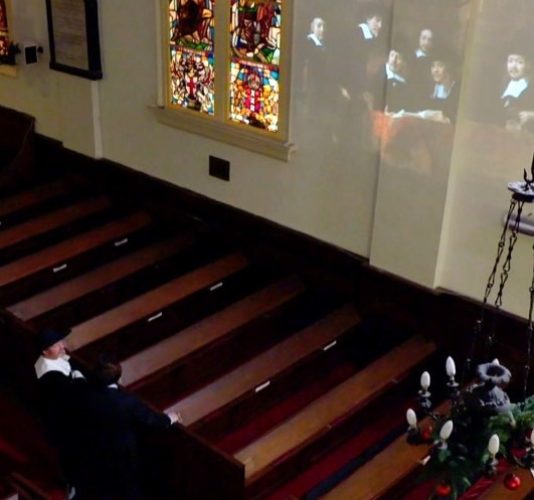 Facilities available for use include the sanctuary, a well-ventilated, large meeting space on the top floor, a library on the first floor, a crèche (Nursery) on the ground floor and a small courtyard. The two fully equipped kitchens may also be utilised. Zoom and video projection facilities are available in the sanctuary with high quality sound amplification. There is fast, reliable Wi-Fi throughout the building.
In addition to ongoing Sunday Worship Services which take place every Sunday, the sanctuary has hosted many weddings and seats 110 to 120 people, including the balcony with its famous (but, alas, temporarily unusable) organ. Christ Church follows the Covid-19 regulations as stipulated by the government (RIVM) for events and meetings, and follows the advice of the Interkerkelijk Contact voor Overheidszaken (cioweb.nl) for church services.
Redecorated as a church more than 250 years ago, Groenburgwal 42 has a long, rich history dating back to the days of Rembrandt who is known to have painted in the building, Hendrick de Keyser who lived in the building, and van Gogh who taught Sunday School. You can read more about our historic building here. Whether you come to Groenburgwal for Sunday worship, a wedding, or a meeting, you are sure to leave renewed.
For a self guided tour through the building, you can download your historic trifold here
We strive to provide service to communities and groups wishing to meet or organise events at a modest contribution which goes towards helping to maintain the historic building and to provide support to the church ministry. Please get in touch with us for our rates and conditions.
If you are in need of a tranquil meeting space within the city, you are welcome to drop in for a chat on Mondays, Wednesdays or Fridays or you can use the "contact us" for or send us an email at info@christchurch.nl and/or to administration@christchurch.nl.